Baab & Denison, L.L.P. was established in 1995 in Dallas, Texas, with a sole focus on labor and employment law.  It represents labor organizations, local unions, and ERISA funds throughout the Southern United States with regard to matters under the National Labor Relations Act, the Railway Labor Act, ERISA and related statutes.
All attorneys in the firm are Board Certified in Labor and Employment Law by the Texas Board of Legal Specialization and each have more than forty years of experience representing the interests of working people in Texas and throughout the South.
The firm proudly traces its roots to the firm of Mullinax, Wells, Baab & Cloutman, P.C. which was widely known since the 1940s for its representation of labor organizations and individuals in labor and employment matters.
For information on an individual attorney in the firm, including email address, visit our Contact Page.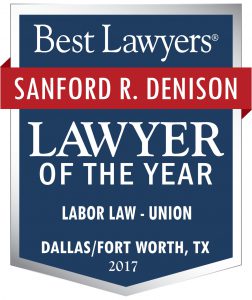 The Best Lawyers in America©
Tier 1 Firm – Dallas/Fort Worth
"Labor Law Union" and "Litigation"